Christian fellowship
Raymont has an active Christian fellowship group that meets regularly to learn, encourage and grow in their faith.
Recent events have included running an Alpha course, a series that focuses on explaining the Christian message. Raymont students have also been welcome to join a series of topical Christian talks from guest speakers at the Uniting Church's Theological College (Trinity College Queensland), including talks from Sam Chan from City Bible Forum and a panel of Christian scientists on the relationship between science and Christianity. Bible fellowship meetings will continue throughout the year with students from all backgrounds invited to join in and learn more.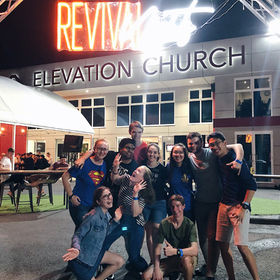 Raymont's Chaplain is Sarah Hands who contributes to the friendly community through her interaction with all students, the provision of counselling when required and the provision of spiritual support.
In addition, a gap year program is being offered by Trinity College Queensland. The program known as Activate will be a one-year, three-day-per-week program that provides purposeful learning and spiritual growth in the context of a Christian community. Students will complete a Diploma of Ministry, accredited first aid course, mental-health aid course, barista course, safe driving course, financial budgeting and attend a Scripture Union Camp Leader's training as well as a short term overseas mission trip.
The Director of the Gap Year Program, Simon Gomersall, can be reached on (07) 3377 9766 or simon.gomersall@trinity.qld.edu.au

Program Director
Simon Gomersall has extensive experience working with young people. He has served in positions as a high school teacher in various centres around Queensland, a Uniting Church youth worker, a school Chaplain at Somerville House in South Brisbane, and pastor at Toowong Uniting Church. He has post-graduate qualifications in Education and Theology.